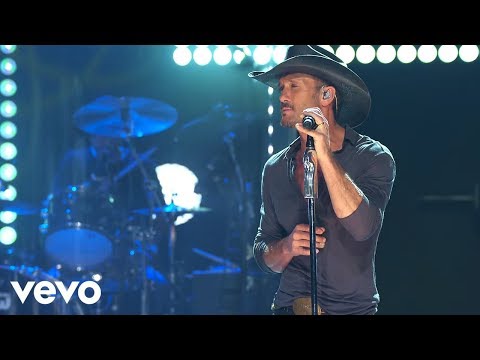 Songfacts®:
Tim McGraw trades vocals with his first cousin Catherine Dunn on this country ballad about love on the rocks. "I knew I wanted her to sing on it; her voice would fit perfectly," McGraw said of Dunn to
Rolling Stone Country. "She went in and in ten minutes, knocked it out."

The song was written by Barry Dean and Luke Laird, who likewise co-penned Little Large Town's hit tune "Pontoon." Tim McGraw commented to
Billboard
magazine: "It's a classic great country song. When you come across those kind of songs, and I've had a few of them throughout my career, like 'Meliorate Than I Used to Exist,' these songs kind of allow yous to dig in, and they have a lIttle flake of country nostalgia, merely likewise a modern edge. When I run beyond a song like that, I tin't look to get into the studio and record it."

This tale of star-crossed beloved started off with Barry Dean, Luke Laird and Jonathan Singleton grinding to a halt subsequently spending the unabridged morning working on another, more commercial song. Frustrated, Laird started jamming out some different musical ideas to lighten the mood. "Luke merely starts playing guitar, and he goes, 'Diamond rings and old barstools,'" Dean recalled to Gustation of State. "It was not a title he had written down, it was something that was only floating in the air."

The trio started working on the new idea, which speedily developed into a song. "We had the first verse and the chorus in well-nigh 10 minutes," said Dean. "By then, Jon was just locked in – he kinda had that second poesy in his eye. Information technology but happened. Information technology was like it just wanted to happen, simply that moment. Information technology was like nosotros had been wanting to write it forever. Within 40 minutes, we had written it and done the work tape."

Barry Dean describes this every bit a "country song, with country rules." This means very straightforward lyrics – something that is not unique to old-school state. "Nosotros were talking well-nigh Motown songs – Holland-Dozier-Holland songs," Dean told Songfacts. "I've got sunshine on a cloudy day. When it'southward cold exterior, I've got the month of May.
Basically, every line punching the thought."

George Strait recorded a demo of this song and put it on hold, significant nobody else could record it. When it became articulate he wasn't going to apply the song, it was pitched to McGraw, who took it.
Source: https://www.songfacts.com/facts/tim-mcgraw/diamond-rings-and-old-barstools